"Out and up" in the mountains!
Welcome to the mountain summer 2023 in Tux-Finkenberg!
Healthy mountain air, fresh spring water, lush green alpine meadows and imposing mountains from 850 to 3,250 m above sea level in the midst of the Tux and Zillertal Alps are the perfect ingredients for an unforgettable mountain summer in Tux-Finkenberg. RECREATION PUR on a summer vacation in Tux-Finkenberg in the midst of the Zillertal mountains. Whether on a leisurely e-bike tour or a hike through the breathtaking Tux mountains - here everyone will find their ideal spot to relax!
See you soon in Tux-Finkenberg! We are looking forward to seeing you!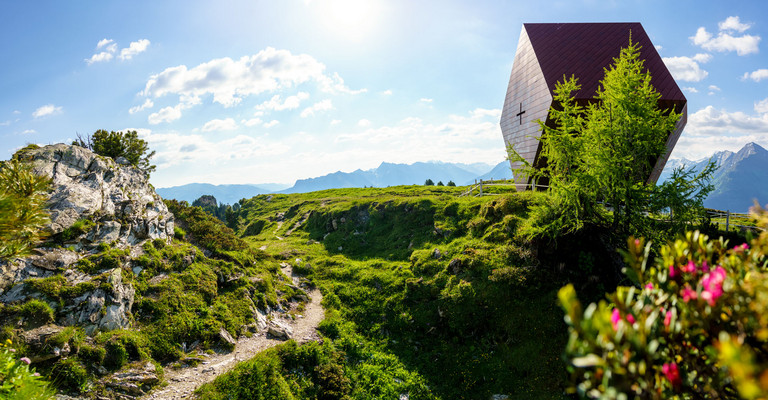 Accommodations for dreaming
In Tux-Finkenberg you will come across numerous accommodations to dream about. Luxurióses hotel, traditional inn, charming vacation cottage or rustic Am - discover your ideal retreat in the Tuxertal.
The contrast between the sunny village of Finkenberg at the entrance of the Tuxertal and the Hintertux Glacier with its turquoise ice at the head of the valley is unmistakable. In between are the small villages of Tux-Vorderlanersbach, Tux-Lanersbach, Juns, Madseit and Hintertux, which exude the typical flair of small Tyrolean mountain villages. Immerse yourself in the magnificent mountain world of the Tuxertal and let yourself be infected by the variety of possibilities!
Located higher than the rest of the Zillertal, the hiking paradise of Tux-Finkenberg offers a special "high feeling". Crystal clear mountain lakes, thundering waterfalls and unique flora and fauna await you on the total of 350 km of hiking trails, 150 km of (e-)mountainbike trails and numerous bike & hike tours. The mountain experience is surrounded by the striking peaks of the Tux Alps panorama.
Destination address for the tourist information:
A-6293 Tux, Lanersbach 401

Plan your route online: