Icy adventures
the experience in the eternal ice
Inhalt
Nature's Ice Palace
Insights into the eternal ice
Nature's Ice Palace at the Hintertux Glacier is a natural gem, unique worldwide and an ideal year round excursion destination for the whole family. The entrance to this ice cave is only a 3 to 4 minute walk from the top station of the glacierbus 3 lift. On guided tours, visitors are asked to "Step inside" to this wonderful world deep beneath the ski slopes and discover a glacial crevasse with magical ice stalactites, giant sparkling ice crystals, frozen waterfalls and even a glacial lake.
The Natural Ice Palace has a constant temperature of 0°C 365 days a year. For the tour therefore clothes and good shoes are needed, even with ski boots the tour is easily possible. With its cool natural beauty, the Natur Eis Palace fascinates adult glacier fans as well as families with children over 6 years.
The ice cave is open all year round and accessible in all weathers. A visit to the Nature Ice Palace can also be combined with a day of skiing on the Hintertux Glacier or with a view from the panoramic terrace.
Contact:
Natur Sport Tirol | Marlies and Roman Erler | E-Mail: info@natursport.at | Tel.: +43/676/307 0000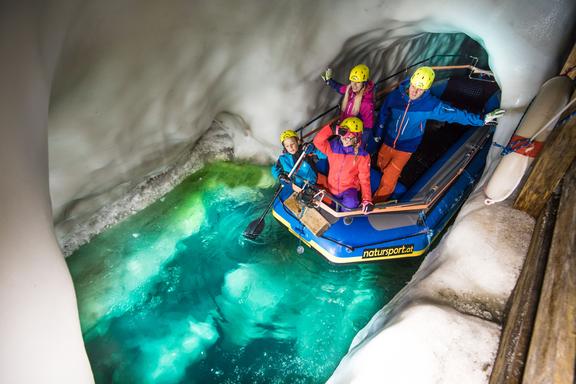 Basistour incl. boat tour
WITHOUT prior notice
Guided tours daily without advance reservation from 10.30 a.m. to 2.30 p.m. (every hour)
Admission: adults € 26,00 / children up to 11 years € 13,00 (the admission price does not include the ascent and descent with Gletscherbus 1, 2 and 3)
Admission: children from 6 years
Meeting point & registration: container at the top station of Gletscherbus 3 (ascent from the bottom station takes approx. 45 minutes)
Proper equipment: sturdy shoes and warm clothes (rental in the sports stores at the Hintertux glacier), also possible with ski boots
Requirements: good physical condition (climbing short ladders, ...)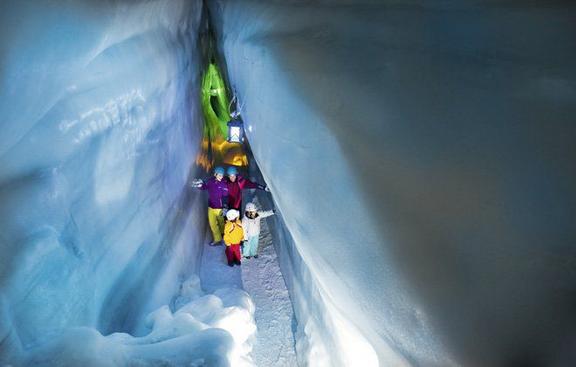 You want to experience something special?
Stand Up Paddeling
Exclusive Photo Tour
Scientific Tour
Ice swimming
ADVANCE BOOKING NECESSARY +43 676 307 0000 or info@natursport.at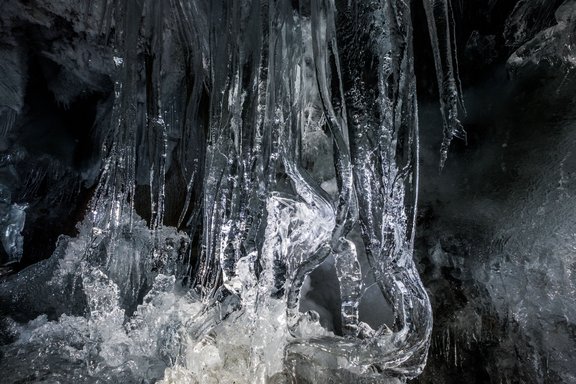 Exclusive photo tour:
Join a private guide and discover areas away from the regular route!
for 3 to 4 persons
Helmet and crampons provided if required
€ 50,00 extra charge/person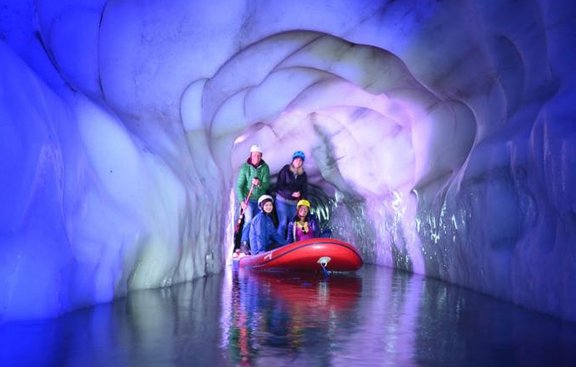 Stand Up Paddeling
Explore the glacial lake deep in the belly of the glacier on the Stand Up Paddle - an extraordinary experience!
from 12 years of age
up to 5 persons
tip-resistant SUP available
€ 10,00 extra charge/person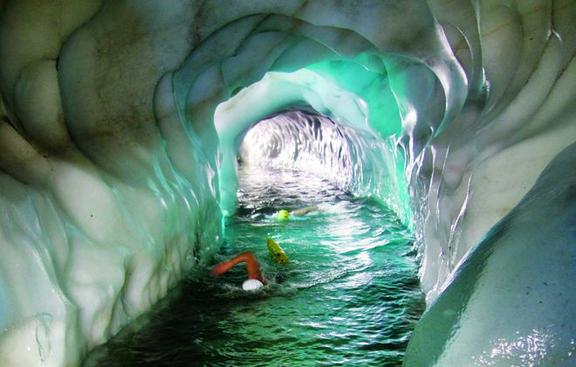 Ice swimming
Ready to jump into the ice-cold water?
from 14 years of age
medical certificate necessary
€ 10,00 extra charge/person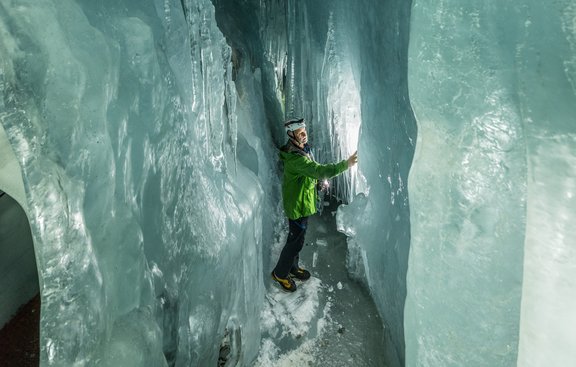 Scientific Tour
Get to know the Nature's Ice Palace with discoverer Roman Erler!
And that's how you get to the Nature's Ice Palace:
By car or public transport to Hintertux and the valley station of the Hintertuxer Gletscherbahn (Hintertux 794).
Then buy the panorama ticket 'Fascination Ice' at the ticket office (ascent & descent Gefrorene Wand, 3,250 m) and take the cable car to the Gefrorene Wand. Please allow at least 30 minutes for this.
Directly to the left of the "Gefrorene Wand"/Gletscherbus 3 mountain station is the trailer for registration and ticket purchase.
Destination address for the tourist information:
A-6293 Tux, Lanersbach 401

Plan your route online: