Not far from the idyllic reservoir at Finkenberg, a new Summer Paradise awaits all little hikers. The highlight of the spacious area with jump air cushion, sand play area, balancing paths and much more can be seen from afar. An 8 metres high wooden "playground" Pepi welcomes all children to the new Pepi's Kinderland, where the ultimate playground for all children is housed inside. Thrilling fun can be found spread over its 3 floors. In addition to a crawling tunnel, playhouse and a magic mirror, there is also a climbing wall and many other attractions. Those who have enough of playing and climbing, can simply leave the Giant Pepi per slide. Through giant Pepi's eyes and additional peepholes the children can spy on their parents, enjoying a coffee break at the terraces of the surrounding restaurants.
Overview map Pepis Kinderland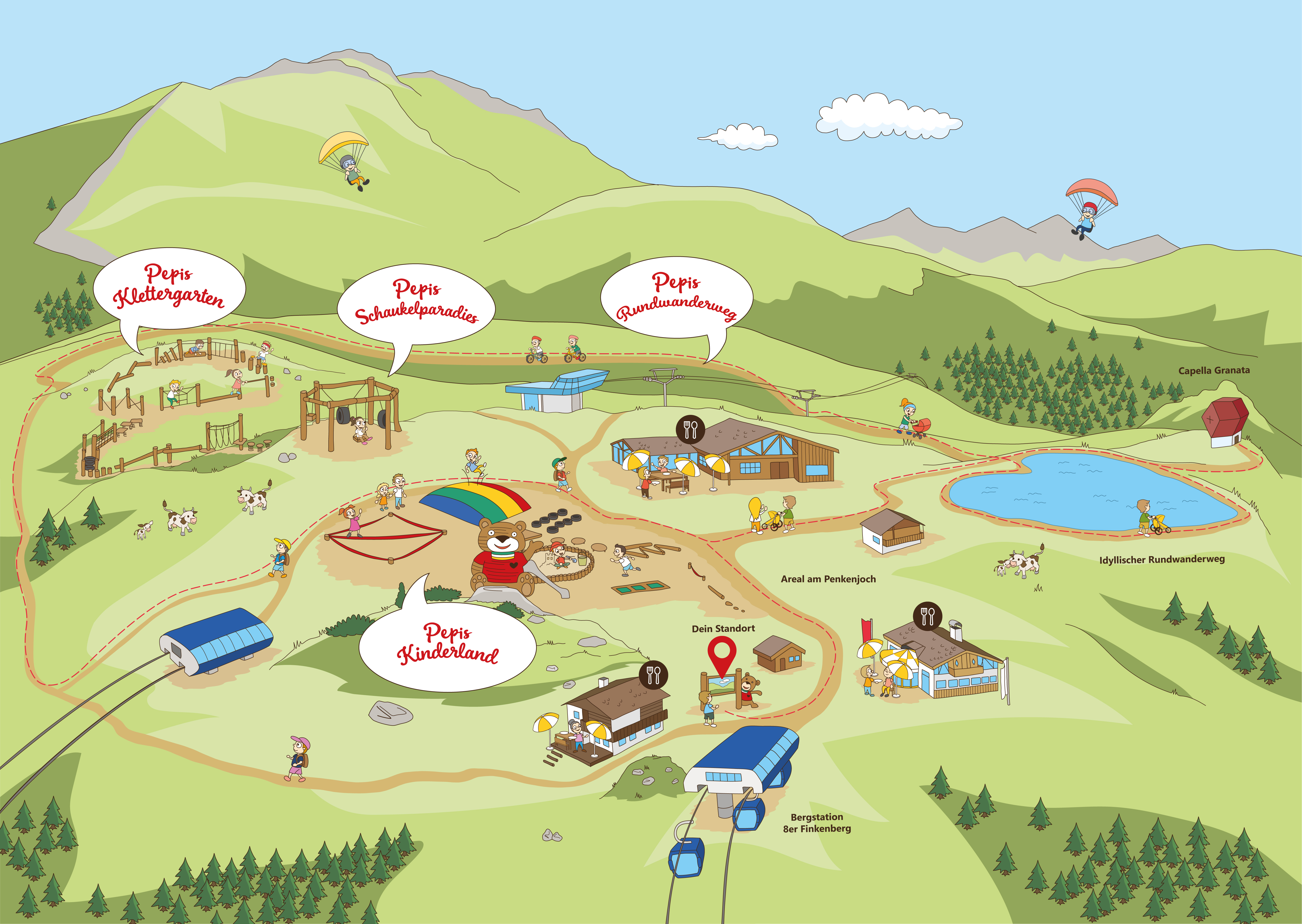 Behind the giant bear Pepi two towers are built which can be reached by hanging bridges. It takes some courage to march in dizzying heights over the bridges and is just the thing for small and big adventurers. About 7 m above the ground, it's off the second tower with a 15 m slide. When you slide it tingles neatly in the stomach and makes you want more.
The second highlight is PEPI'S KLETTERGARTEN a large low ropes course for children, teenagers and adults. But you do not have to secure yourself for that, but you can prove your skill at a low altitude above the ground. 30 different elements run up and down the terrain and invite young and old to prove their climbing skills. Many elements can be mastered in different ways, which means that boredom can not even arise. The different degrees of difficulty of the individual parts always present new challenges for the whole family.
In addition to Pepis Kinderland and Pepis Klettergarten, things are now going high - in PEPIS SCHAUKELPARADIES! There are six different swings to choose from. It's best to test them all and find your favorite! But one thing is definitely certain: No matter which swing, swinging far through the air is possible with each individual and the fun is definitely not neglected!
Free ascent and descent for children under 10 years accompanied by an adult.
Destination address for the tourist information:
A-6293 Tux, Lanersbach 401

Plan your route online: