Inhalt
Penken Park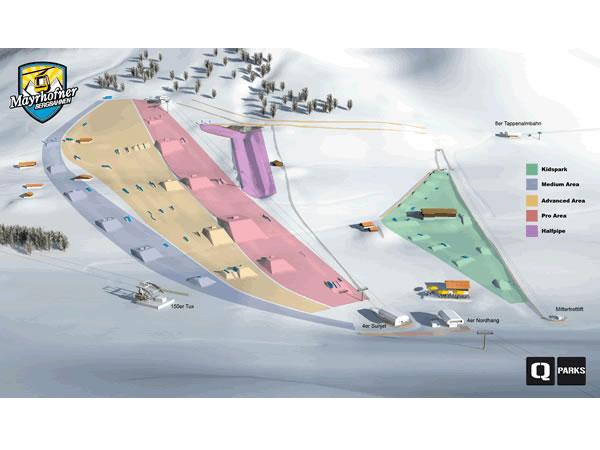 Contact
Hauptstraße 472
AT-6290 Mayrhofen

E-Mail: info@mayrhofner-bergbahnen.com
URL: http://www.van-penken-park.com
Telefon: (0043) 5285 62277
Fax: (0043) 5285 62277 161
Description
The Mayrhofner Bergbahnen have provided a whole slope to build a huge funpark - the Penken Park.
Beginner or pro - there are 5 different lines to choose from according to your skills: the funline, the public line, the proline, the halfpipe and the kids park. With this setup the Penken Park in Mayrhofen has established itself as a meeting point of the European freestyle scene.

It's all about freestyle
Beginners can try their first tricks on mini jumps, advanced riders practice on various rails and pros take off on perfectly prepared big jumps. Special highlights are, for example, the rainbow-box and the huge wallride at the end of the park. Riders of different levels of experience will find just the right line in the Penken Park in Mayrhofen. An international shaping crew prepares the obstacles every day and designs the park according to the riders' wishes and abilities. Especially the Proline is very popular with professional freeskiers and snowboarders from all over the world.

Opening times
In winter
Back
Destination address for the tourist information:
A-6293 Tux, Lanersbach 401

Plan your route online: