Inhalt
Outdoor pool Finkenberg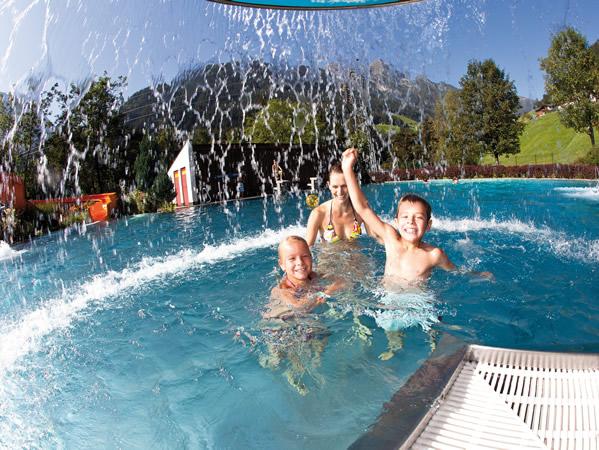 Contact
Persal 216
AT-6292 Finkenberg

E-Mail: [email protected]
URL: http://www.finkenberg.tirol.gv.at
Telefon: (0043) 5285 64590
Fax: (0043) 5285 62668 4
Description
Outdoor pool with large lawn 2000 m²
Children's pool, rest area, water slide, air bubble, gushing water, waterfall, children's playground, kiosk,...
Rules of conduct for a safe contact with each other As the safety and health of our visitors is of course the highest priority, a guideline of measures was drawn up jointly by all Zillertal pool representatives, taking into account the legal requirements, in order to enable all visitors to enjoy a relaxing and safe stay in the Zillertal outdoor pools.
According to this guideline:
-3 G entry regulation vaccinated -tested- recovered
-Access restriction: 20 m² of the respective sunbathing area per bathing guest
-General minimum distance of 2 m from visitor to visitor Observe distance markings and information signs on the systems
-Use of a mouth - nose protection in the interior areas (entrance area, sanitary, changing rooms, etc.)
-In the water (pool), ensure a distance of 1 - 2 m between the bathers
For people living in a common household, the rules on distance between them do not apply.
Through the measures listed above, the Zillertal pool representatives ask for your knowledge and understanding that on particularly busy bathing days, depending on capacity and availability, there may be limited admissions from day visitors, season ticket holders, holders of blocks of twelve, members of the swimming pool package and holders of the Zillertal Activcard.
Day ticket adult € 6,-
Day ticket youth from 15 - 17 years € 4,-
Day ticket children from 6 - 14 years and disabled (with disabled card) € 3,-

2 hour ticket adult € 4,-
2 hour ticket youth € 3,-
2 hour ticket children € 2,-

Block of twelve adult € 66,-
Block of twelve children € 33,-
Opening times
Opening hours:
29.5. - 5.9.2021
in case of good weather from 9.00 a.m. - 7.00 p.m.,
by adverse weather from 4.00 p.m. - 5.00 p.m. air temperature minimum 20 C°
Back
Destination address for the tourist information:
A-6293 Tux, Lanersbach 401

Plan your route online: