Inhalt
The sun village of Brandberg: gem of the Zillertal valley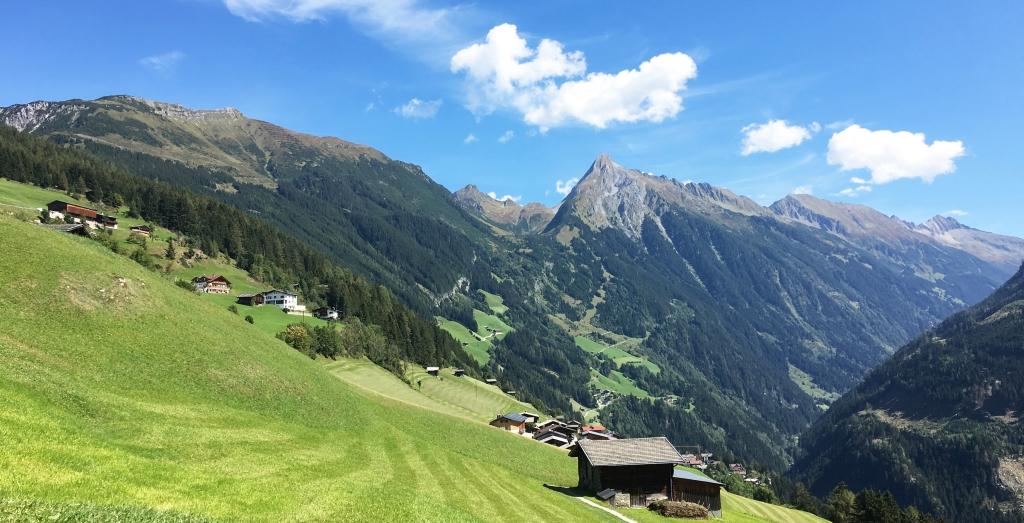 Dates
07.06.2022
21.06.2022
05.07.2022
19.07.2022
02.08.2022
16.08.2022
30.08.2022
06.09.2022
16.09.2022
27.09.2022
Times
TU, FR 10:00
Category: Excursions / trips / tours
Location: Brandberg, Gasthof Thanner
Description
Guided hike of the high mountain nature parks Zillertaler Alps through the idyllic mountain village Brandberg with visit of a mill and the nature park exhibition Kulturlandschaft.Welten.
Biodiversity and alpine cultural landscape - guided tour with the Zillertal alps nature park
The hike begins with a guided tour through the over 100-year-old renovated Schrofen Mill, where we watch flour being milled. We continue along the varied cultural landscape trail through the mountains of this sunny village. Passing mountain guesthouse Steinerkogel, the path leads through meadows and trails into the sun-drenched mountain forest. After traversing undulating terrain, we reach the district of Ritzl and back to the renovated Mitterstall Barn. Here we visit the Kulturlandschafts.Welten (Cultural Landscapes.Worlds) Nature Park exhibition Visitors receive an intensive insight into the rural and agricultural way of life during this voyage of discovery along the Cultural Landscape Trail, which is characterised by its extreme and steep cultural terrain and unique biodiversity.
Meeting point: 10.00 a.m. - Gasthof Thanner in Brandberg
Duration: approx. 4,5 hrs, 2,5 hrs. of which spent walking;
Characteristics: moderate hike, partly on paths (250 Hm in altitude)
Cost: € 10,00 (free for guests of Nature park partner businesses)
Refreshments: Gasthof Thanner and Berggasthof Steinerkogl
Maximum 9 participants / advanced registration is required
Registration:
- in the summer program under www.naturpark-zillertal.at, or with your host
until 8.00 p.m. on the day before the tour.
- At the Nature park or Tourist offices of Tux-Finkenberg until 5.00 p.m. on the day
before the hike.
- Directly in the MyZillertal App or at www.myzillertal.app/naturpark
Excursions / trips / tours
Back
Destination address for the tourist information:
A-6293 Tux, Lanersbach 401

Plan your route online: