Inhalt
Tettensjoch: High above the Tux valley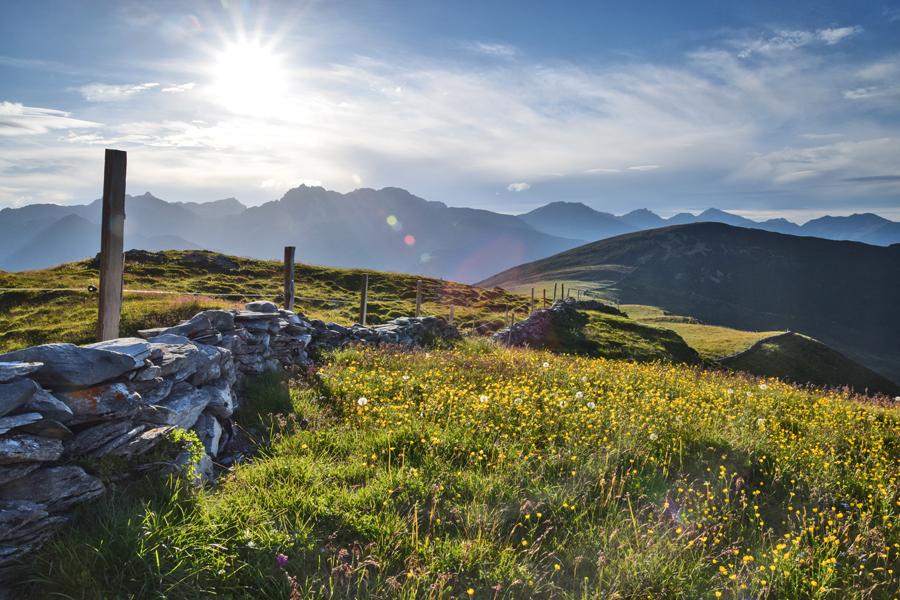 Dates
13.07.2022
23.07.2022
27.07.2022
10.08.2022
24.08.2022
07.09.2022
Times
WE, SA 08:30
Category: Excursions / trips / tours
Location: Ginzling
Description
Guided hike in the Zillertal Alps Nature Park to the Tettensjoch.
Expedition through the stages of vegetation in alpine landscapes - guided hiking tour with the Zillertal alps nature park
From Elsegg we hike following the course of the stream to one of the most beautiful alpine pastures in the Zillertal, the Elsalm. There we enjoy the magnificent view over the Tux Pre-Alps from a vantage point. From here the path leads us high above the alpine pasture to the Tettensjoch (2,276m). Block glaciers, moraines and a double ridge shape the landscape. On the descent to the Löschbodenalm and Höllensteinhütte (1,710m) we cross the Hochalm, the dwarf shrub belt and reach the natural tree line with larch, stone pine and spruce. The last stage takes us over an old hiking trail to Klausboden and back to Lanersbach. An exciting hike for every mountain fanatic and nature photographer.
Meeting point: 8.30 a.m. – optional Busstop Bärdille
Duration: approx. 8 hrs, 6 hrs. of which are spent walking
Characteristics: challenging hike (1.100 Hm in ascent, 1,000 Hm in descent)
Cost: € 10,00 (free for guests of Nature park partner businesses)
Refreshments: Höllensteinhütte
Maximum 9 participants / advanced registration is required
Registration:
- in the summer program under www.naturpark-zillertal.at, or with your host
until 8.00 p.m. on the day before the tour.
- At the Nature park or Tourist offices of Tux-Finkenberg until 5.00 p.m. on the day before the hike.
- Directly in the MyZillertal App or at www.myzillertal.app/naturpark
Excursions / trips / tours
mountain tour

excursion

various trips/excursions
Back
Destination address for the tourist information:
A-6293 Tux, Lanersbach 401

Plan your route online: